NetSuite for Manufacturing
Manage procurement, plan production and direct discrete manufacturing processes in one, unified platform.
NetSuite Manufacturing delivers a single integrated cloud solution that replaces the disconnected systems that are used by manufacturers today.
It offers comprehensive functionality and is specifically designed to help manufacturers of all sizes reduce operating costs, increase revenue and better manage their business and supply chain processes overall.
NetSuite Advanced Manufacturing is built on native NetSuite ERP, ensuring manufacturing processes are connected to financial reports, inventory management and outstanding orders in real time.
From the shop floor to the top floor—NetSuite's manufacturing cloud ERP helps growing manufacturers control, coordinate and manage every aspect of their operations in one place.
Built for Manufacturing
Manage procurement, plan production and direct discrete manufacturing processes in one, unified platform.

Flexibility. Because no two businesses are the same, NetSuite offers the power and agility to support and adapt to your exact processes as they change over time.

Global ERP. NetSuite's multi-language, multi-currency capabilities support your processes and global supply chain no matter where they operate.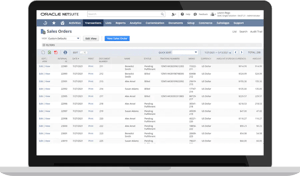 Order Management
Financial Management
Planning & Scheduling
Supply Chain
Procurement
Shop Floor Control
Quality Management
CRM & Marketing
Order Management
Manage orders from multiple channels — in-store, web, call centre, mobile, kiosk — in one place. Delivering a "buy anywhere, fulfil anywhere" experience is easy with real-time inventory visibility across all locations, including stores. Process orders faster, gain more satisfied customers and lower operational costs.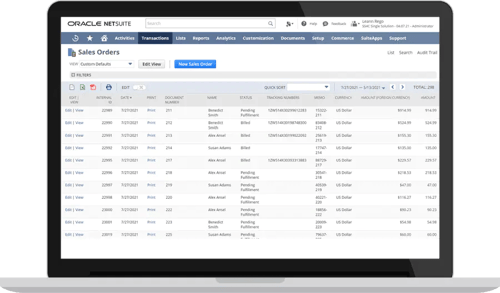 Financial Management
A best-of-breed financial management application ensures world-class accounting across your organisation.
Easily understand key metrics—like Cost of Goods Sold and Picking Accuracy—that help you improve organizational efficiencies and grow your business.
Gain real-time access to the financial and operational performance of your wholesale distribution business.
Automate transaction flow and reduce manual data entry to eliminate errors and improve time to value.
Maintain compliance with applicable accounting standards while establishing control and enabling audit trails.
Planning & Scheduling
Automatically balance supply and demand, ensuring you have the right inventory in the right place at the right time.
Scheduling is one of the most complex functions within manufacturing. NetSuite delivers a real-time scheduling engine that is flexible, yet intuitive, with finite and infinite capacity scheduling.
View all upcoming work orders – when you want, how you want.
With either a traditional calendar view or a Gantt chart, NetSuite displays upcoming production with intuitive drag-and-drop tools. Once everything is scheduled, get a real-time view of production and even identify potential problem areas.
Supply Chain
Control and monitor your outsourced manufacturing processes like they're your own.
Where a product is manufactured, and whom it's manufactured by, should not be a barrier to growth. NetSuite delivers a global view of inventory, regardless of where it is in production, allowing companies to manage outsourced production as if they were doing the manufacturing.
NetSuite provides real-time inventory visibility, vendor location management and full distribution requirement planning (DRP) capabilities for multi-location planning.
Procurement
Manage your suppliers and purchasing processes with visibility to ensure you get the products when you need them, at the best price.
NetSuite was built to support the needs of product-based businesses from the start. Today, it offers a variety of native features like requests for quotes, blanket purchase orders and purchase contracts to help ensure that you have the right materials or items available, at the right time, in the right place.
Make the procure-to-pay process more efficient with smarter spending.
NetSuite helps companies improve the procurement process with tools that better monitor spending, simplify requests for goods and services, and deliver real-time visibility throughout your operations.
Shop Floor Control
Make improvements across the floor.
Many manufacturers spend significant time and effort trying to perfect future plans with planning and scheduling applications. Recording when, where, what, why and how your products are currently being manufactured is just as critical. In fact, it's a key element to a more accurate schedule. NetSuite makes it easy to quickly and accurately gather information from the manufacturing process.
Get real-time updates from the shop floor via NetSuite's interactive tablet application.
The tablet application can be deployed through any tablet's browser and can accurately record exactly what's happening during each step of the manufacturing process. The application provides an interactive work queue showing all current and future operations scheduled through the current work center. The user-friendly layout is specifically designed to be used in harsh manufacturing environments and can even be operated while wearing gloves.
Quality Management
Designing and manufacturing a high-quality product doesn't happen by accident
NetSuite helps you deliver the highest quality in your products with minimal overhead. Define inspection plans, pass/fail criteria, collect results and monitor all results as they're recorded.
Improve quality while reducing costs
NetSuite is specifically designed to help manufacturers of all sizes reduce operating costs, increase revenue and better manage their business and supply chains. Define and maintain your inspection plans, collect in-process inspection results and report on non-conformance.
CRM & Marketing
Manage the Complete Customer Lifecycle
Today's successful companies adapt to their customers' needs. Where possible, they have replaced manual processes with automated ones to increase efficiency and responsiveness.
NetSuite customer relationship management (CRM) delivers powerful capabilities all in a single cloud solution, including sales force automation, marketing automation and customer service and support management. NetSuite CRM also includes powerful sales performance management, order management and partner management seamlessly integrated with your NetSuite ERP and eCommerce systems. A complete picture of sales helps you plan your shop floor operations and improve your forecasting.
Product Demos
Webinars
Guides & Blogs
Product Demos
See NetSuite for Manufacturing in action.
Webinars
View on-demand webinars, which deliver insights from NetSuite and industry experts.