NetSuite Inventory Management
Relying on spreadsheets or pen and paper to track inventory is neither efficient nor accurate. With NetSuite Cloud ERP, your business can easily track inventory across multiple locations by automating inventory management in one unified solution.

What is NetSuite Inventory Management?
NetSuite Cloud ERP Inventory Management provides a single, real-time view of inventory across all locations and sales channels, allowing businesses to reduce inventory on hand to free up cash while avoiding stockouts. By optimizing inventory levels and ensuring product availability across multiple channels, NetSuite Inventory Management helps businesses keep inventory costs low while exceeding customer expectations.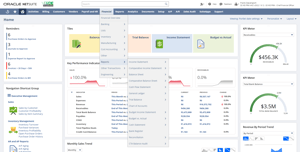 Real-time Inventory Visibility
Real-time, company-wide inventory visibility — across warehouses, retail stores, pop-up shops, drop shippers, 3PLs or any other place where you manage or stock inventory — is key to enabling a buy anywhere, fulfil anywhere customer experience.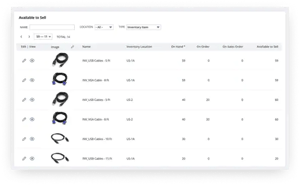 NetSuite Inventory Management Features
NetSuite Inventory Management minimizes manual processes by automatically tracking inventory levels, orders and sales throughout the inventory life cycle, and provides the insights needed to make data-driven decisions and clear visibility into any inventory liabilities, like excess or slow-moving stock.
Multi-location Fulfillment
Replenishment
Cycle Counting
Traceability
Multi-location Fulfillment
NetSuite Inventory Management gives you the ability to predefine fulfilment rules to eliminate multiple shipments for a single order and avoid excess shipping charges.
With visibility into stock across all locations, you can proactively monitor stock levels and sell through, transferring inventory between locations as necessary to ensure inventory availability and minimise obsolete inventory. Sales associates are empowered to save potential lost sales in out-of-stock situations with enterprise-wide inventory availability that allows them to transfer, hold or ship items directly to the customer.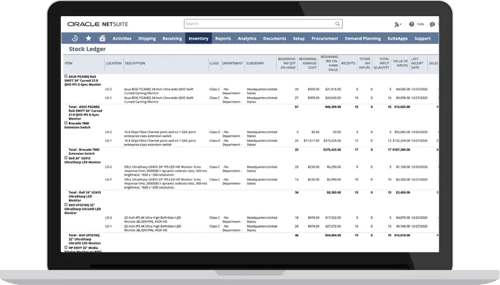 Replenishment
Fluctuations in demand, seasonality, supply chain logistics and a product's natural life cycle must be accounted for to ensure sufficient stock on hand. Using demand-based replenishment, NetSuite Inventory Management uses historical and seasonal sales data, average lead time and number of inventory days' of supply to dynamically manage item reorder points and maintain preferred stock levels. NetSuite automatically generates tasks and alerts and sends them to the purchasing manager.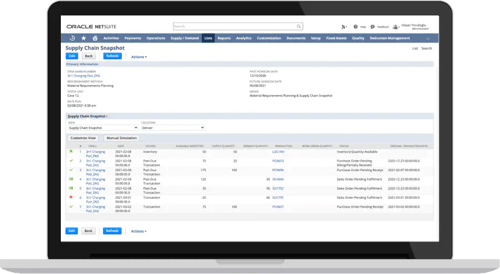 Cycle Counting
NetSuite Smart Count is an inventory cycle counting solution that enables organisations to improve the efficiency and accuracy of management by automating inventory counts without freezing transactions in the entire location. The inventory level used for the count is taken at the time the count starts for each individual item. Smart Count keeps track of transactions that happen for the items being counted, and if there is any activity during the count, NetSuite automatically alerts counters so they can react appropriately. Preferences allow administrators to choose what happens if the on-hand quantity changes for an item during the count process.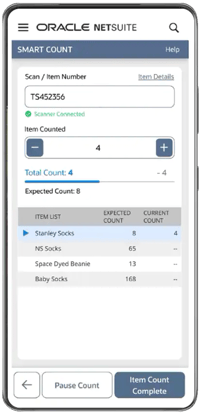 Traceability
NetSuite Inventory Management lets you back and forward trace inventory using lot and serial tracking. Lot-numbered items track the quantity and specific cost for each lot as products are purchased and produced. Serializing inventory allows you to choose a specific item when you fulfil an order. Together, lot and serial numbers let you define fulfilment strategies (such as first expiring, first out), minimising waste and ensuring inventory is used in the most efficient way.
Bin management and defining your merchandise hierarchy also help with traceability. Matrix items track products by options such as size and colour. Updates made to the parent item are automatically applied to sub-items, greatly simplifying SKU management.
Data Sheets
Demos
Webinars
Guides & Blogs
Best Practices
Ready to optimise your inventory management?
A single, real-time view of items, inventory and orders across all selling channels enables businesses to fulfil orders quickly and accurately.