NetSuite Cloud ERP Accounting Software
Improve financial controls, close faster and produce accurate reports with NetSuite Cloud ERP
NetSuite Cloud ERP will have you covered as your company grows and you face more complex business challenges. As a unified platform, NetSuite accounting software seamlessly integrates with all the other suite pieces, including financial management capabilities, inventory and order management, customer management, eCommerce and more.
What is NetSuite Cloud Accounting Software?
NetSuite cloud accounting software simplifies the process of recording transactions, managing payables and receivables, collecting taxes and closing the books and enables timely, accurate reporting and greater control of financial assets. With real-time access to financial data, you can quickly drill into details to resolve issues and generate statements and disclosures to comply with multiple regulatory financial compliance requirements.
All-in-One Place Accounting
Gain real-time insights into numerous financial metrics, such as profitability ratios, inventory margins, liabilities, fixed assets, taxes and cash positions. Ensure compliance with accounting standards, government regulations, tax codes and internal policies.
Access Anywhere
Streamline reporting processes and improve communications with a library of customisable reports built on a single source of financial and operational information.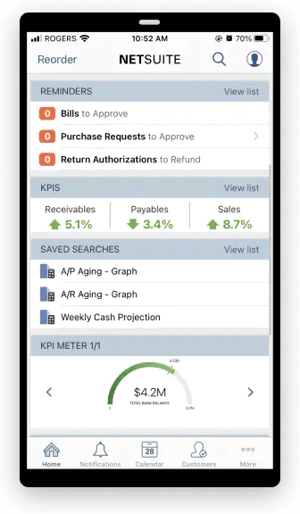 NetSuite Cloud Accounting Software Features
NetSuite seamlessly couples core finance and accounting functions with strong compliance management, improving business performance and increasing financial close efficiency while reducing back-office costs.
General Ledger
Cash Management
Accounts Receivable
Accounts Payable
Tax Management
Close Management
Fixed Assets Management
Payment Management
Data Sheets
Demos
Webinars
Guides & Blogs
Best Practices
Ready to streamline your financials?
With NetSuite cloud accounting software transform your general ledger, optimise AR, automate AP and streamline tax management. Get a complete view of cash flow and financial performance.